Monday, September 19, 2011
Remember this stitching project?
It's finished! Head over
here
to see it :)
Friday, September 16, 2011
I am going to Spark!
I can't believe it! I have been wanting to go since last year, when -it seemed as if- the whole creative community was blogging about Spark 2. It looked so fun and beautiful and inspiring.
However, I have 2 young kids AND I have never left them (except for one weekend when Jasmine was 10 months old and Alex was not yet in our lives). That and it seemed a little self- indulgent to be travelling all the way to Utah for a creative weekend just for fun, just for me. So I put it away on my long wish list of things to do one day.
But then ... I asked and I received. Hubby is graciously taking a couple of days off to take care of the munchkins and letting me have uninterrupted fun all the way in Utah. *eeek* I'm so excited! Thank you hubby!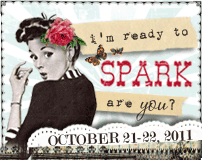 Of course, I haven't told the kids yet ... now, how to do this?
Thursday, September 15, 2011
These days I seem to only have time to make cards. I have a made a few, but this particular one I love. It went to congratulate a lovely couple who got married last weekend.
These days I love mixing geometric designs with floral designs. It looks fresh and contemporary.
I also have a new love for orange. It's strange considering I have always disliked orange and brown since I was a kid. Oh yes, I love brown, too, now. Particularly when mixed with pink or baby blue. What's up with that? My taste in food has also changed drastically since I was kid. I must be getting older! :)